What's the Difference Between Dell OptiPlex and OptiPlex Plus?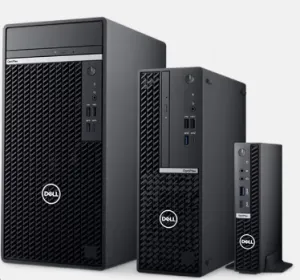 Dell used to assign the 3-series, 5-series, and 7-series monikers to all their laptops and desktop lines. With their newly released Optiplex desktops (our recommended business desktop), they've simplified things a bit. With the release of Intel's 13th Generation Processor, they've recently restructured their product lines and now only have two models Optiplex and Optiplex Plus. So what's the difference between the two?
Basically, the Plus model gives you more connectivity, expandability, and upgrade options. Here's a rough comparison based on what we were able to figure out from bumping around their quoting system (Dell doesn't have a good comparison sheet that we can find). This is based on what's available in the usual Small-Form-Factor (SFF) models we typically sell:
| | | |
| --- | --- | --- |
| | Standard (SFF) | Plus (SFF) |
| Processor | Up to 13th Gen i5-13600 | Up to 13th Gen i9-13900 |
| Graphics | Intel Standard Graphics, Up to AMD RX6500 | Intel Standard Graphics, Up to Dual AMD RX6500 |
| RAM | Up to 64GB | Up to 128GB |
| Storage | Up to 1TB SSD, Optional Additional 7200 RPM Hard Drive | Up to 2TB SSD, up to 2 Additional SSD or Mechanical Drives |
| USB Ports | 2xUSB 2.0, 2xUSB 3.2 (Front); 2 USB 2.0, 2 USB 3.2 (Rear); | 1xUSB 2.0, 1xUSB 2.0 with PowerShare, 1xUSB 3.2, 1xUSB 3.2 Type-C (Front); 2 USB 2.0 with SmartPower, 4 USB 3.2 (Rear); |
| Video Ports | 1xHDMI and 1xDisplayPort with optional HDMI/DP/VGA Port | 3xDisplayPort (Triple Monitor Support out of Box) with Optional HDMI/VGA/USB-C |
| PCIe | 1xPCIe x16, 1xPCIe x1 | 1xPCIe x16, 1xPCIe x4 |
If you go with their larger Optiplex Plus Tower options (vs the SFF options), you can get up to a i9-13900K processor, three PCIe (16x, 4x, 1x) and a PCI expansion slot, and up to an Nvida GeForce RTX 3070 video card.
There are some upgrades between the Micro and Micro Plus form factors. Since they are much smaller, it primarily revolves around more powerful processors, more RAM, larger storage, and additional monitor/USB connectivity.
Basically, Dell is saying this: Pick your size (Micro, Small Form Factor, or Tower) and go from there.
The price differences between the base models and the Plus models isn't a lot (if you're talking similar configurations), and we recommend going with the Plus models for the most part, as that will give you much better expandability and connectivity. However, if you just need a basic system that is just going to sit there and not do much (and doesn't need to be upgraded), the base model with 16GB of RAM, an SSD, and an i5 Processor will do you just fine.
Also note that many of the "Up To" and "Optional" items on the above list will require a custom build system, which can take a few weeks (or more) to ship. We typically go with the in-stock (aka Ready-to-Ship) configurations whenever possible as they're generally cheaper and they're in our hands faster.
Have any questions about Dell hardware? Email our sales team today.