New "Pro" Fonts in Windows 10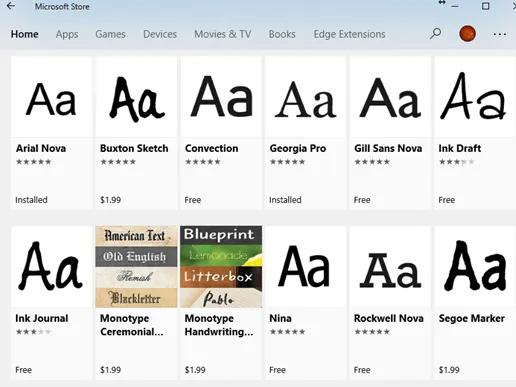 The April 2018 Update for Windows 10 included a not widely known feature: New and improved "Pro" fonts. These are the standard Windows fonts (Arial, Georgia, Gil Sans, Verdana, etc…) but they are new free versions that include a lot more variations, widths and weights, giving you variety and choice when using the built-in Windows typefaces in your documents. So how do you get the new fonts?
The fonts aren't installed by default. You'll have to have the April 2018 update installed on your computer and then you can open up the Microsoft Store. Search for "fonts" and you'll see the new Fonts section of the store (or you can search for a specific font by name).
There are some paid fonts, but the bulk majority of them are free. Choose the font you want, click on the price (Free) and then click on "Get".
They will automagically install themselves, saving you the trouble of manually installing them.
To get the new versions to show up in Microsoft Word, you may need to restart the application. But you'll now have a larger variety of fonts to choose from to make your document look perfect.
Thanks to Office Watch for this tip.
Please Note: If you are one of our CompleteCare clients, we are holding off on installing this update. As always, we test patches on a select group of computers before rolling them out everywhere to make sure that they aren't going to break something that will kill your office's productivity. Contact us for details or questions.