Tech Tip: Set Out of Office Reply in Outlook
If you're going to be out of the office for a day or 12, it'd probably be a good idea to set an out-of-office automatic reply in Outlook so that folks who email you will know you're not available. We've shown you how to set one in Teams but we made the assumption in that blog post that you knew how to set an out of office message in Outlook. We know what assuming does, so let's just show you how to set a vacation/out-of-office auto reply. Thankfully, it's a pretty easy process. Here's how you do it.
Click on the "File" menu in Outlook.
Click on the "Automatic Replies" button:
On the next screen you can set your automatic replies settings. You can set a time/date so that you can pre-schedule your outage. You'll have an option to set different internal and external auto-replies. If you leave one of them blank, it won't send for that group. For example, we sometimes won't send internal auto-replies as your co-workers likely already know when you're gone. At the very least, you can customize the message for your audience:
But when you're emailing back to external contacts, you can adjust the message accordingly for client-facing communication:
Once you set the auto reply, you'll see a notice across Outlook that Auto Replies have been enabled with a button to turn it off in advance if needed: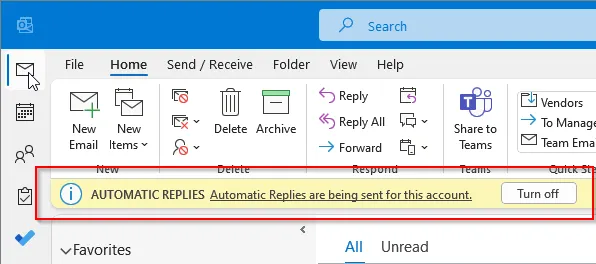 Now anybody who emails you will get your out of office reply. If you want to get fancy, you can get specific Outlook rules setup to auto-reply certain ways or do all sorts of fun stuff with rules.
If you manage to head out on vacation and you realize you forgot to set an out of office reply, you can actually set your out of office from the Outlook Mobile app, too, that you may already have installed on your phone. We'll cover how to do that next time.