Use Presenter Modes in Teams for Better Presentations
When you're presenting in Microsoft Teams, the folks you're talking to will tend to be better focused and have a better experience over all if they see you along with what you're trying to present. Interactivity with the audience along with visual cues will help keep the presentation fresh and useful to your audience.
Microsoft Teams now allows you to select presenter modes that allow you to be part of the presentation, instead of just sharing screen or window content only. Here's how you get that going.
First off, after your meeting starts and you have content to share, tap the usual share content button in the upper right of your window. When you click on that, you'll see the various presenter modes, as well as the option to add a background to your presentations.
The are four options in the presenter mode, and depending on which one you choose, you'll see your content and your camera feed slightly differently. When you select a mode, a window will pop-up showing you what your audience sees. Here's how the new modes look (and as you can see in these screenshots, you can also edit your camera feed's position and size for your needs):
Standout presenter mode:
Side-by-side presenter mode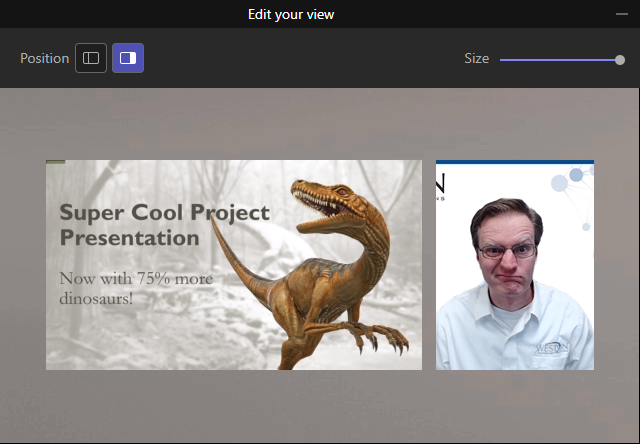 Reporter presenter mode
Once you start presenting, you can switch between modes using the little toolbar on top of the window or screen you are presenting:
And as usual, when you're all done, hit the stop-sharing button to turn off your presenting:
Few things to note:
These features are only available in the desktop version of Teams.
If you have attendees using the mobile or online version of Teams, they will see a shared window or screen and presenter video separately.
If you accidentally close the little picture-in-picture window that pops-up when you select one of these modes and want to see it again, you'll need to restart presenter mode.