Transcribe Audio Files with Word Online
Have you ever had an audio file of a speech, meeting, voicemail, or an interview that you wanted to turn into text for further use or editing? While there are many online commercial services that will do this for a fee, you can do this with the features built into Office 365. Here's how to transcribe audio files in Word Online with Office 365.
First off, note that this feature is currently only available in the online version of Word. So head to Word Online to get started.
In our case, we were looking to edit the script of our existing telephone menu so we could have the audio rerecorded. So we downloaded the file from our phone system. Open up a new document in Word Online (or open up an existing document in SharePoint or something similar). Once you have the interface open, go up to the little microphone menu, and hit the drop down menu to select "Transcribe":
You can either use your computer's microphone to record audio or you can (in our case) transcribe an existing audio file. So click on "Upload" audio in the menu that pops-up:
Browse to your audio file and select open:
It will then chug away on your audio file and work on the conversion: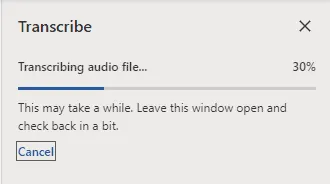 Depending on the length of the audio file, it may be quick or it may take a while.
Once it's all done chugging away, it will show you what it thinks folks are saying. If there is more than one speaker on the audio, it will try to separate folks out into multiple speakers, too:
You can press the play icon on the top to listen to it and edit the transcript if needed.
Once you get it how you like, click on "Add to Document" to get the text into your document. You can then just get the text, get the text with speakers, with time stamps, or both:
The transcript is then inserted into your document, and the audio file is attached, too, for future use and to listen along should you need to tweak the audio:
This would have been a really handy service back in the 1990s when this newsletter editor was in college and had to manually transcribe a lot of interviews on a fairly regular basis (back when they were all on micro cassette).
A few notes on this service:
You can record and transcribe and an unlimited amount of audio within Word for the Web.
There is a five hour limit per month for uploaded recordings and each uploaded recording is limited to 200mb. You can upload mp3, .wav, .m4a, or .mp4 files.
English is currently the only language supported at this time.
This is part of the larger dictate service in Office apps that allows you to verbally insert text into emails, documents, PowerPoint, and more. You can read more about the transcription features on Microsoft's site.